Ingredients:
For the soaked raisins:
100 grams of raisins;
3 tbsp. spoon rum or water.
For the Omelet:
3 large eggs, yolks and whites separated;
3 tbsp. spoon of butter;
1 tea. spoon vanilla paste or extract;
2 tbsp. spoon of sugar;
a pinch of salt;
10 tablespoons of flour;
1 pint of milk.
Additionally:
2 tbsp. spoon of butter;
2 tbsp. spoon sugar
Preparation:
1. Mix clean raisins and rum (or water) in a small bowl.
2. In the bowl of a food processor or large bowl, beat the egg whites with a whisk until stiff peaks form. Keep aside.
3. In the same already empty food processor bowl or another bowl, beat the egg yolks, melted butter, vanilla, sugar and salt. Without stopping to beat lightly, add flour little by little and pour in the milk.
4. Add the beaten egg whites to the yolk mixture and carefully mix with a spatula, trying to leave as much air in the batter as possible.
5. In a pan with thick bottom and high sides, heat 1 tbsp. Spoon butter, add flour and cook on medium flame for 5-6 minutes. After 2-3 minutes of cooking, add dried raisins.
6. Using a spatula, lift the omelet slightly to see if the bottom is already golden brown. If so, divide it into quarters using a knife and turn each one over. Again add some butter to add some fat to the pan. Fry for another 3 minutes. Then, using the same spatula, quarter the omelet into even smaller, bite-sized pieces.
7. Add the extra sugar and butter to the pan with the omelette pieces and fry for a couple of minutes, stirring gently until the sugar caramelises.
8. Serve sprinkled with powdered sugar, fresh apples or apple puree, sauteed plums, cherries or cherries, as well as any other favorite fruits are suitable.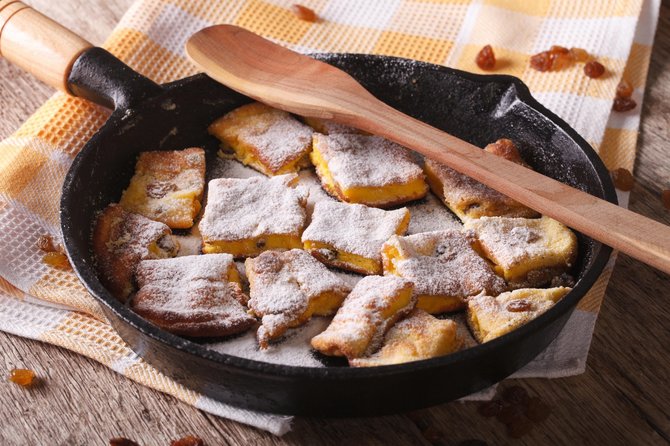 Vida Press Photo/Kaiser Omelet