Lemon trees grow in the warm, dry Mediterranean climate, so lemons have a special place in the cuisine of these regions. Italians have a great love for lemons – they appear in the most unexpected food and drink recipes, and lemon harvesting has grown into a ritual over the years. Italians flavor lemons not only in desserts and lemonades, but also in pasta and meat products.
From juice to peel
Lemons are often associated with vitamin C, so they are often used as a means of preventing diseases. They are rich in nutrients, B vitamins, calcium, iron, magnesium, potassium and fiber. Lemons are valued not only for their beneficial properties, but also for their sour taste, which enriches various dishes with freshness.
When it comes to food production, lemon juice is not only used in cooking, for example the Italians use every part of it, including the peel. The seeds are also not thrown away, they are perfect for planting new trees. There are various ways to prepare leftover lemon segments from cooking so as not to waste and for more use.
If you are making a dish that requires only lemon juice, you can wash the remaining peel well and separate the bitter white skin from the fruit with a potato peeler. Place the peels in a freezer bag and store in the freezer. Use the peel as a flavoring for fruit tea or broth. You can bake the peel in an oven at 100°C for about two hours until dry. When the peel cools and hardens, put it in a blender and grind it. Use the powder for desserts, marinades or sauces.
Italian lemonade
You will need: 1 bunch of fresh basil, 400 grams of sugar, 1 glass of water, 2 glasses of freshly squeezed lemon juice from 12-15 lemons, 2 glasses of cold sparkling water, ice, lemon slices for decoration.
Preparation: Place basil leaves, sugar, water in a heated pot and cook until sugar dissolves (about 5 minutes). Cool the resulting syrup and store it in the refrigerator.
Pour lemon juice, basil syrup (add as needed for taste and sweetness) and sparkling water into a bowl. Mix everything well, remove basil leaves and pour into a jug. Add ice and a few lemon slices to the lemonade before serving.
Freepik.com photo.
Veal piccata
You will need: 500 grams of veal loin cut into thin strips, 4 tablespoons of flour, 8 lemon slices, 2 sprigs of thyme, 4 tablespoons of butter, 2 teaspoons of capers, 2 tablespoons of lemon juice, 2 tablespoons of white, dry wine, 1 pinch of salt, 1 pinch of crushed pepper
Preparation: Lightly and evenly dust the meat with flour and season with salt and pepper. Cover the meat with lemon slices.
Heat a pan and add butter. When the butter is melted, add the thyme and prepared steaks to the pan. Cook the meat for 4 minutes on each side until evenly browned. Remove from pan and place on a plate, cover with foil. Add the capers to the pan and simmer for a few minutes, then add the lemon juice and white wine. Return the meat to the pan for another 1 minute. Serve with capers and thyme.
Lemonade
You will need: 1 liter of water, 500 grams of sugar, 7-10 lemons, 1 lemon peel.
Preparation: Heat sugar and water in a small saucepan until dissolved. After boiling, heat for a few more minutes and let the syrup cool.
Squeeze the juice from all the lemons, filter through a sieve. Pour lemon juice and grated rind of one lemon into the cooled syrup. Mix everything and put in a chilled container in the freezer. Refrigerate for three hours, stirring every hour with a fork. Garnish with lemon peel and mint leaves before serving.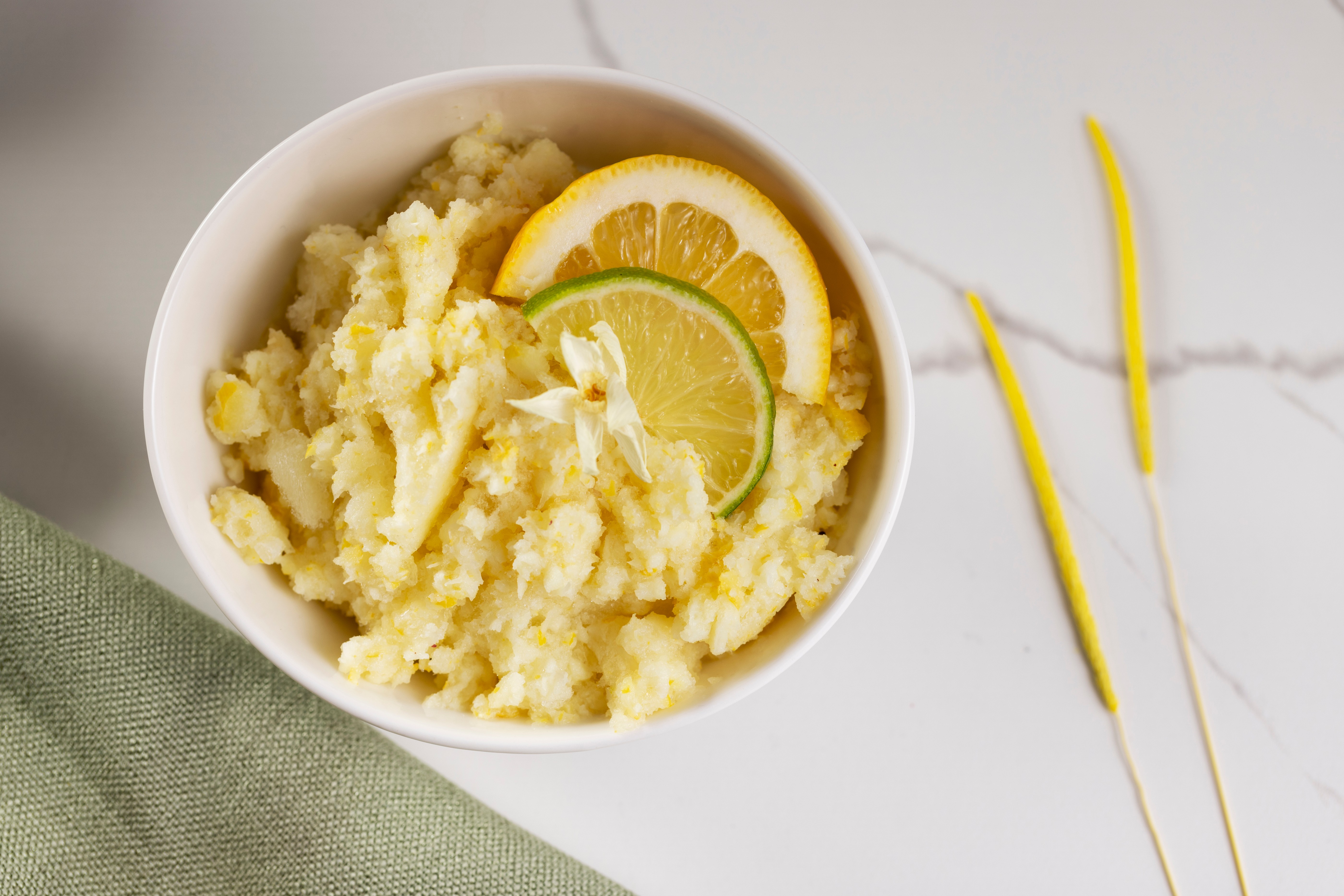 Freepik.com photo.
Pasta with lemon sauce
You will need: 2 tablespoons of butter, juice and zest of 2 large lemons, 300 grams of spaghetti, 4 tablespoons of heavy cream, a handful of Parmesan cheese, salt and black, freshly ground pepper, fresh herbs (could be mint, basil, chives).
Preparation: Boil a pot of well salted water and add the spaghetti. Cook the pasta according to the instructions on the package or reduce by one minute if you want it al dente.
While the pasta is cooking, heat the cream in a pan over medium heat and add the lemon zest. Add the butter to the cream mixture. As soon as the pasta is cooked, remove it from the water with tongs and pour it into the sauce. Don't panic if a little water gets into the pan – it will still taste good. Add lemon juice, heat for another minute, stir vigorously.
Season with salt and pepper to taste and slowly add the Parmesan while stirring. Serve sprinkled with fresh herbs.
Lemon Ricotta Cake
You will need: 100 grams of butter, 300 grams of sugar, 400 grams of ricotta cheese, 3 eggs, 1 teaspoon of vanilla sugar, 1 lemon juice and grated zest, half a teaspoon of baking powder, half a teaspoon of sugar, 300 grams of flour, powdered sugar for decoration.
Preparation: Preheat the oven to 200 degrees. In a large bowl, beat the butter and sugar together. Add the ricotta cheese and mix for another 4-5 minutes until fluffy, then add the eggs one at a time. Add vanilla sugar, lemon juice and zest to the mixed mass. Stir in baking powder and salt.
Add flour and mix until everything becomes a smooth mass. Pour the batter into the prepared, buttered baking dish and bake for about 45 minutes, until the cake is firm. Cool the cake for 15 minutes before serving and garnish with powdered sugar on a plate.
Freepik.com photo.