Meatballs with Spaghetti
Ingredients:
spaghetti;
400 grams of ground beef;
0.5 cups of ground breadcrumbs;
1 onion;
2 cloves of garlic;
50 grams of Parmesan cheese;
1 egg;
parsley;
salt;
pepper;
0.5 glass of white wine;
a jar of spicy tomato sauce;
Olive oil.
Preparation:
1. Add finely chopped onion, garlic, parsley, grated parmesan cheese, breadcrumbs and beat in egg to ground beef. Mix everything until smooth.
2. Pour water into a small bowl. Wet your hands to form round, small sized balls and place them in a heated pan with olive oil and a clove of garlic.
3. After a little roasting, pour white wine. After it evaporates, add spicy tomato sauce. After reducing the temperature, simmer for about 10 minutes.
4. Add the spaghetti to the boiling water. After they soften, drain the water through a colander. Place in a large container, drizzle with olive oil and mix.
5. Place meatballs with sauce over spaghetti, season with Parmesan cheese and basil leaves.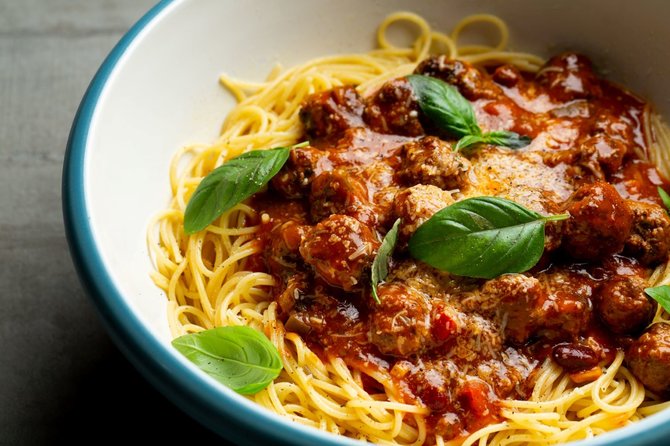 TV3 Photo/Meatballs with Shavee
Roll with raspberry jam and whipped cream
Ingredients:
For the Biscuits:
3 egg yolks;
2 eggs;
100 grams of sugar;
3 egg whites;
40 grams of sugar;
70 grams of flour.
For the Raspberry Jam:
150 grams of raspberry puree;
110 grams of sugar for jams;
250 grams of frozen raspberries;
½ lemon juice;
For the whipped cream:
250 grams of milk;
50 grams of sugar;
25 grams of corn starch;
2 yellow;
10 grams of vanilla extract;
65 grams of butter.
Preparation:
1. For the biscuit, whisk the eggs with the egg yolks and 100 g of sugar until stiff foam. Beat egg whites with 40 grams of sugar until stiff foam. Mix both masses carefully. Mix wheat flour little by little.
2. Distribute the resulting mass evenly on a baking sheet lined with baking paper. Bake in an oven preheated to 180°C for about 12-13 minutes.
3. Put the frozen raspberries in the pan, add raspberry puree and sugar to the jams. Mix everything with a whisk, bring to a boil and let it cook for 10 minutes. Before removing the jam, squeeze the juice of half a lemon and keep it on the heat for 30 seconds. This is done so that the pectin in the sugar works better. Pour the jam into a separate container and cool.
4. Pour the milk into the whipped cream in a saucepan and bring to a boil. Mix sugar with starch and mix with egg yolks. While stirring, add a little hot milk, and when the sugar dissolves, return the mass to the pan again. Reduce heat to medium and cook until thickened. When the cream starts to thicken, add the vanilla extract. Remove from heat and add butter while stirring. Mix until you get a smooth mass. Transfer it to another container and leave it in the refrigerator to cool.
5. After cooling all the ingredients, you can form the roll. Carefully remove the biscuit cutter from the tin. Place on baking paper, it will be easier to roll the roll.
6. Spread the whipped cream evenly over the biscuit and jam over it. Then help yourself to wrap the roll with paper. The paper should be rolled to maintain its shape.
7. Place the formed roll in the refrigerator to harden. Better to keep overnight.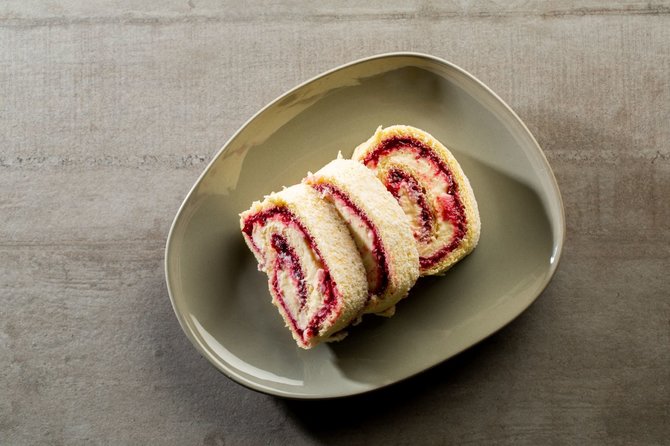 TV3 Photo/Roll with raspberry jam and whipped cream